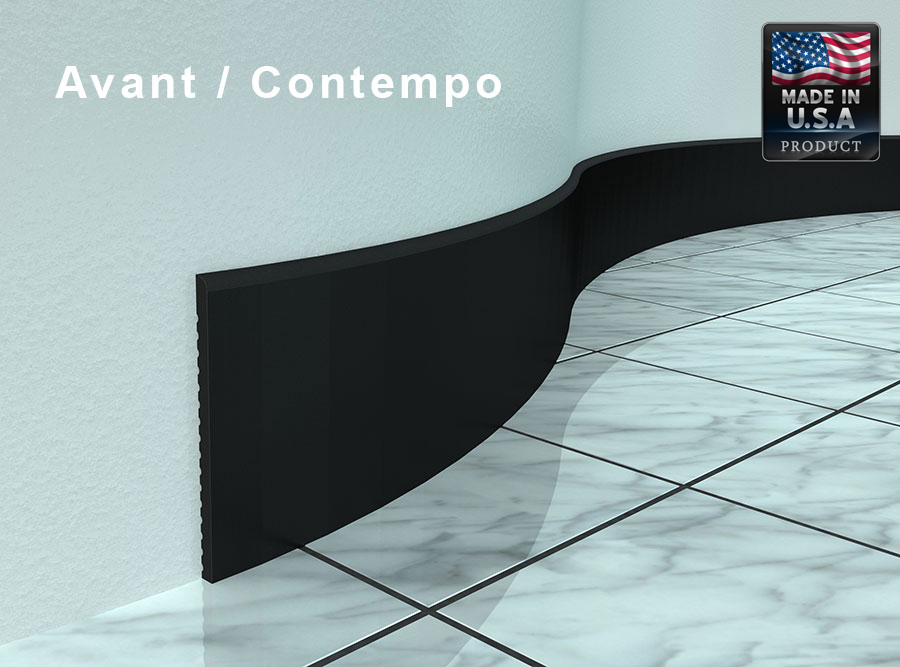 Made of durable and time-tested PVC, Quik-Base trim offers a modern, high-performance solution, for both commercial & residential applications. Quik-base trim is offered in two standard profiles, thicknesses and adds a sophisticated and clean aesthetic in a variety of settings.
A homogeneous composition of 100% foamed polyvinyl chloride (PVC), high quality additives, and colorants – produced in a smooth, durable matte finish. Quik-Base mouldings feature a consistent density, impact resistance and color – providing a uniform and contemporary aesthetic.
Quik-Base is Beautiful Avant & Contempo trim features a smooth, micro-calender finish with satin sheen. Furnished in four standard colors, Quik- Base trims will also readily accept paint.
Quik-Base is Workable
Cutting Avant & Contempo is easy using standard woodworking tools with no chip outs. Installing onto straight, curved walls or round columns is fast & easy requiring less labor time.
Quik-Base is Durable
With Avant and Contempo you can feel confident. There's no rotting, cupping, warping, splits, or twisting. It's moisture, insect, impact & heat resistant, doesn't require paint & is suitable for damp or exterior applications.
Quik-Base is Uniform
With consistent density, color & edges, Avant & Contempo trim provides uniform aesthetic.
Manufacturing tolerances are exact and uniformity results in minimal waste during installation.
Light-weight & safe to handle
Economical to ship
Easily installed using minimal adhesive
Cuts easily with no residue using standard tools
Inside & outside corners available
Offered in two thicknesses and two profiles
– 1/4" thick x 4" high x 8'-0" long
– 3/4" thick x 4" high x 8'-0" long
Inside & outside corners available
One year limited warranty
Available in four standard colors below" with "Available in four stock colors below.
Customer color matching available.